Regular price
Sale price
$17.00 USD
Unit price
per
Sale
Sold out
The Modernism One is the perfect canvas to help you express your artistic side and say goodbye to traditional (boring) food storage systems! 
Introducing our eco-friendly and reusable Beeswax Food Wraps, the perfect solution for sustainable food storage. Made from 100% Canadian beeswax and natural organic cotton fabric, our beeswax wraps are designed to replace single-use plastic wraps and promote a greener lifestyle.
With our Beeswax Food Wraps, you can securely cover and store your favorite foods, keeping them fresh for longer. The beeswax creates a natural seal around the food, preventing air and moisture from spoiling it. These wraps are not only functional but also contribute to reducing plastic waste and its harmful impact on the environment.
Our Beeswax Food Wraps are handmade with care, ensuring high-quality craftsmanship and durability. They are easy to use and can be molded around various food items or containers. Whether you're wrapping a sandwich for lunch, covering a bowl of leftovers, or storing fruits and vegetables, these wraps provide a reliable and sustainable solution.
By choosing our Beeswax Food Wraps, you're making a conscious decision to support the environment and reduce your carbon footprint. These wraps are washable and reusable, allowing you to enjoy their benefits time and time again. Simply wash them with mild soap and cold water, air dry, and they're ready to be used again. With proper care, they can last for months, providing long-term savings and minimizing waste.
Experience the convenience and eco-friendliness of our Beeswax Food Wraps while keeping your food fresh and reducing plastic waste. Join the sustainable movement and make a positive impact on our planet with these versatile and reusable food storage solutions.
Key Features:
Eco-friendly and reusable alternative to plastic wraps
Made from 100% Canadian beeswax and organic cotton fabric
Creates a natural seal to keep food fresh for longer
Handmade with high-quality craftsmanship for durability
Easy to use and mold around various food items or containers
Washable with mild soap and cold water for long-term use
Reduces plastic waste and promotes a greener lifestyle
The Modernism One comes into two different sized beeswax wrap sets to suit all your prep or leftover needs.
Made In Canada

Mind Your Bees beeswax food wraps and bags are made of 5 all natural ingredients: GOTS-certified organic cotton, Canadian beeswax, organic jojoba oil, pine resin, and coconut wax. Visit our Beeswax Wrap FAQ page for more info.
Set Sizes

Our Small Set Includes:

1 small 8x8 wrap

1 medium 10x10 wrap

1 large 13x14 wrap

Our Large Set Includes:

2 small 8x8 wraps

2 medium 10x10 wraps

1 large 13x14 wrap
Care Instructions

To clean your reusable beeswax food wraps, simply rinse with cool water and use natural dish soap, when needed. To dry, drape it over a plate on your dish rack to let it air dry on both sides, and you're done! For more detailed instructions see our blog post on How to Clean Beeswax Wraps.
Shipping

For orders over $35 CAD, we offer free shipping to Canada and the USA.

We also offer international shipping. Shipping charges for your order will be calculated and displayed at checkout. 

Visit our shipping policy page for more details.
Share
View full details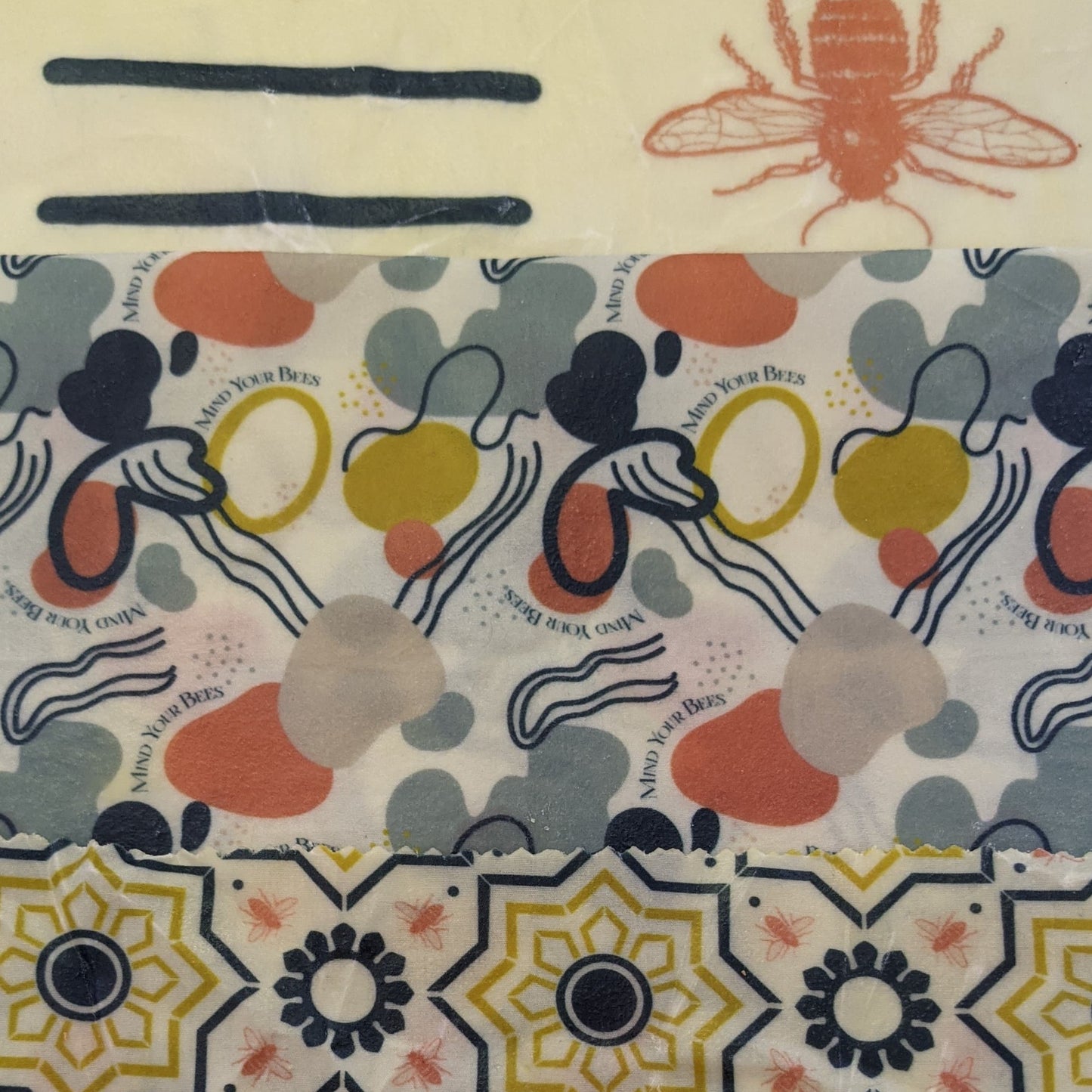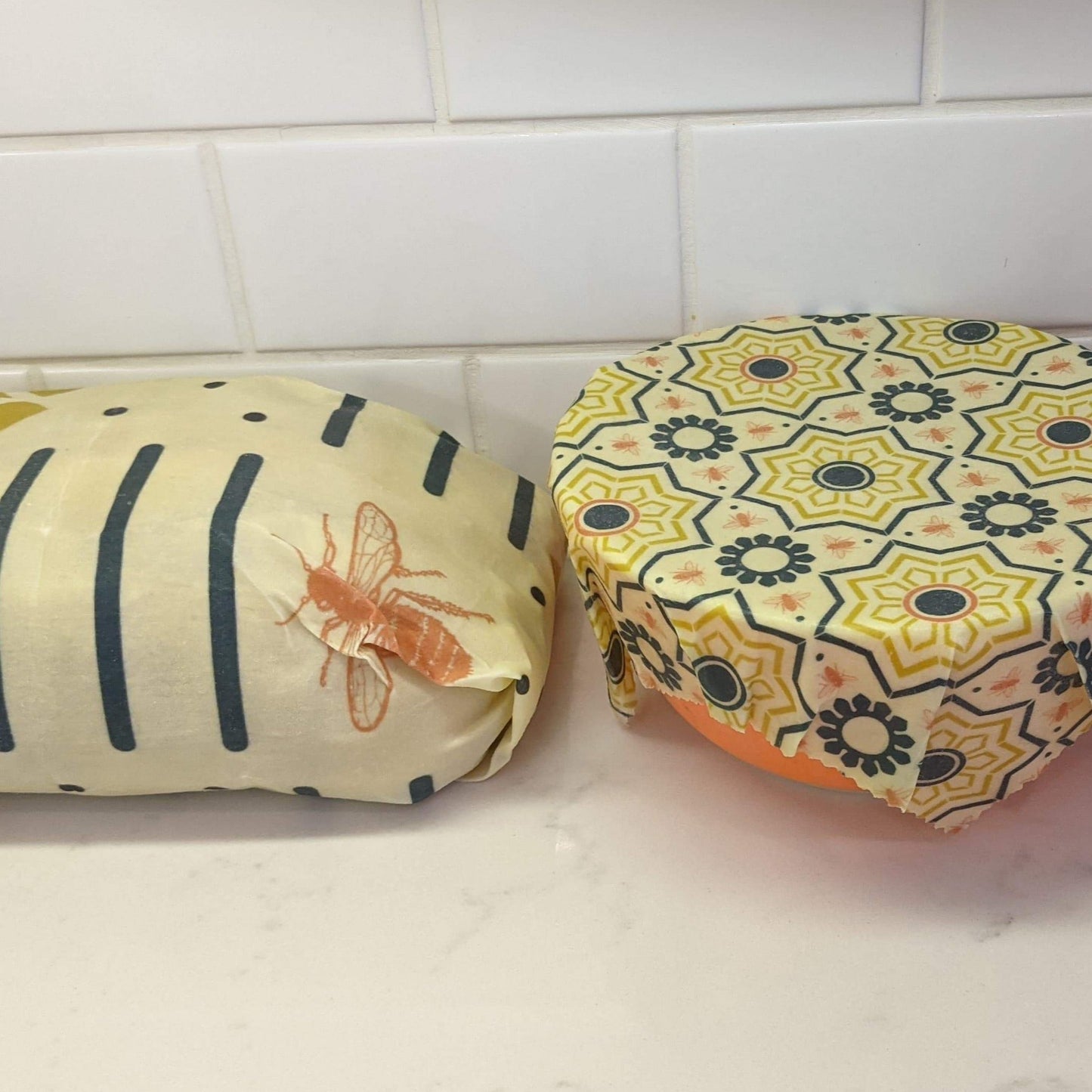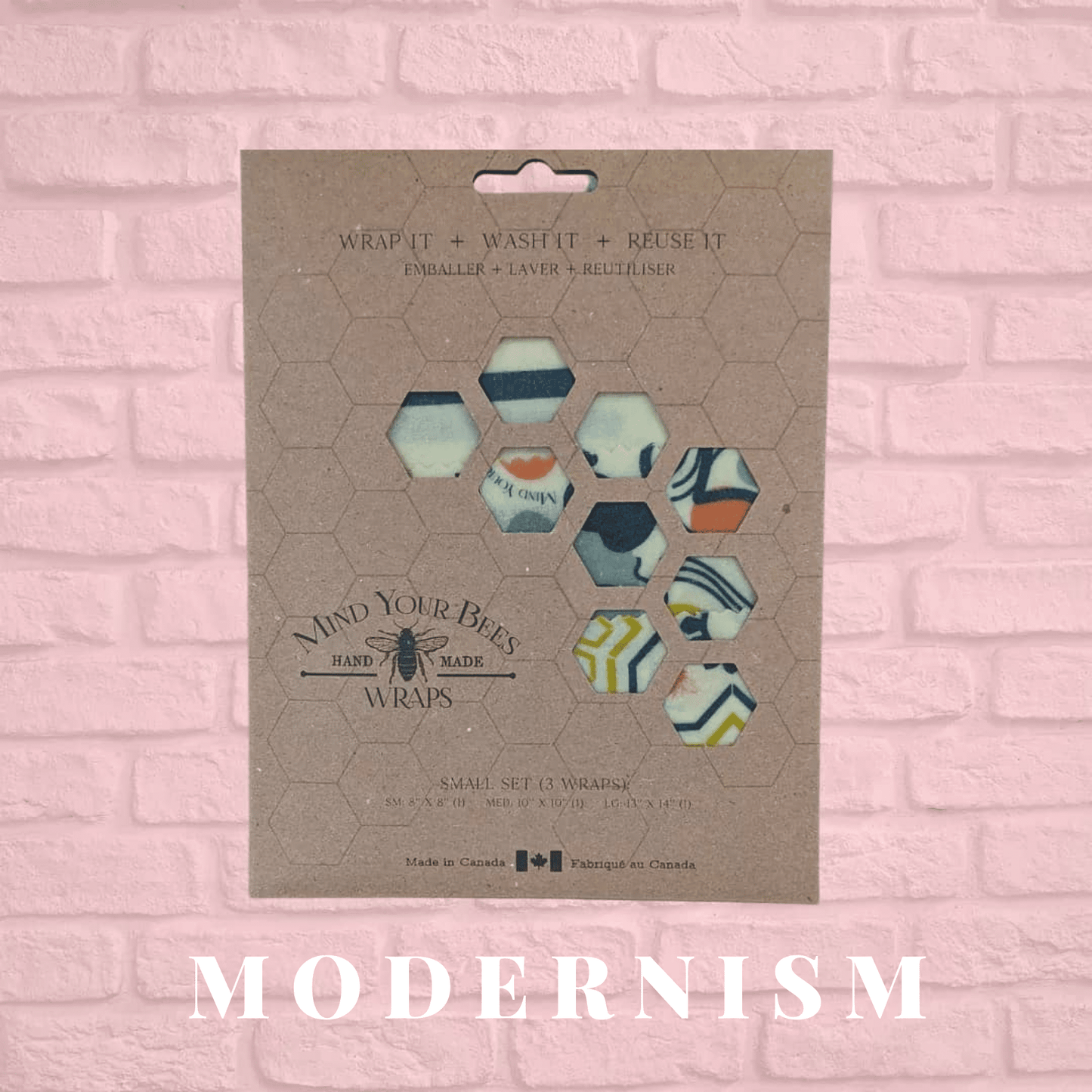 ⭐⭐⭐⭐⭐

This product is amazing, and doesn't stop at keeping food fresh. These wraps work as an excellent gripper for tough to open jars too. Honestly my most used kitchen accessory!!!! ~ Amber B.

⭐⭐⭐⭐⭐

Just got my Kitchen essentials kit, and I'm so excited to use them. Love that they are reusable! And no waste! Eco-friendly and so easy to use. Will be telling my whole family about this company. And my favorite it's all Canadian 🇨🇦 Great Product! ~ Nancy C.

⭐⭐⭐⭐⭐

Love your wraps!! You guys are doing awesome things!! Amazing customer service as well!! ~ Tiu T.